A PRBC circuit will see the 6th year in 2013 this year.
The circuit which opened in 2008 completes five years which were a first stage, and Chics April Fool as leading sire, It was begun to earn 10,000,000 yen and the history that the 20,000,000 yen rider of Kanjiro Tokita and Tohma Tokita was born was carved.
And 1st Scene of 6th PBC opened as opening of a new stage here.
It rained two days ago, at the time of paid warm up, it became best condition that the riding ground was the condition of the somewhat bad state, and 1st day started.
Non Pro DV 1st Go Round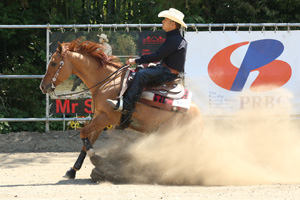 In Non Pro DV 1stGo Round, first Caf King Jac and Takayuki Kobayashi to construct a pair in this competiton acquired 140 points, and were set to 1st place.
Kobayashi constructed Black Caf (Out of Chics April Fool) and a pair by Int NP DV last year, and serves as a grand champion -- as a nonprofessional rider -- the circuit in 2013 -- having entr(ied).
Caf King Jac was the 3rd, the horse which he owns was the 14th year by this year for the first time about reining, and the first inspiring feat acquired 140 points during the whole life.
It is La Tigre Del Cielo which followed this.
Ridden by Hisako Ishiyama.
Open DV 1st Go Round
In nice horses, such as Rooster JJ, La Tigre Del Cielo, Catman Pine, and Lil Ruf Whip, son of Gallo Gold Cody showed the calm motion which cannot be considered, acquired 141 points, and Kanjiro Tokita and Gold Flashy Bear (owned by Akiko Masuda) of 5Year Old Gelding were at the top.
It is Catman Pine although a score has a little differences.
La Tigre Del Cielo followed this.
And 2nd day was greeted with best condition.
Although Green DV Ltd NP DV was less than five entries and it was abortive, as for Green DV, Starlights Cody and Mihoko Nogushi shone with the champion.
And Ltd NP DV, Rooster JJ and Fuki Shinozaki are with Starlights Cody and-Kohsei Kawabata. Two persons of A Hollywood Hustler and Masako Hayashi were pressed down, and it shone with the champion.
Turning to EWPC Congress to be held in June, Shinozaki is the further devotion upon my honor Eighty Six Classic and Kazuhiko Satoh It seemed that a victorious preliminary announcement declaration was made to the Kyushu team.
At a capital riding ground condition, final day is also Non Pro and Open. day of the No.1 of Japan determination game of Team Roping Header was greeted.
Non Pro DV 2nd Go Round
By the speed control which has lenience and severity in a circle, Caf King Jac and Takayuki Kobayashi which was at the top by 1st Go Round, Furthermore, the score was extended, 142.5 points and a high score were issued, and the post of the first seat of Non Pro No.1 of Japan in the whole life was taken.
Although other players came out of the mistake, and could not earn a score but had allowed the runaway of Kobayashi, their skill of the rider was insufficient in the potential of the horse, and they seemed for a rider to be unable to demonstrate capability of a horse purposely and to carry out it.
A rider's basic improvement in technical was able to consider by necessity.
Open DV 2nd Go Round
It was at the top by 1stGo Round. Since Gold Flashy Bear carried out for the second stop in grand contact outside, a score was not able to be extended, and a match was not able to be determined by its performance.
Catman Pine-Lil Ruf Whip-Roosters JJ etc. could not exceed the total score of "Gold" to the showing of "Tigre", and "Gold" was still maintaining the top firmly.
And it became a draw of "Tigre" as fully prepared.
Although the mistake was made just in the first stop, "Tigre" shows advanced performance as speed control of a circle, a change lead, and a rollback sliding stop, and acquires 144.5 points, Kanjiro Tokita gained the crown of Open Champion since EWPC Congress last year.
Team Roping Header Green DV
This time, since the number of entries was less than regulation, it became abortive, but what was performed, and all entry players commit a catch mistake, and a game serves as the score 0.
Non Pro DV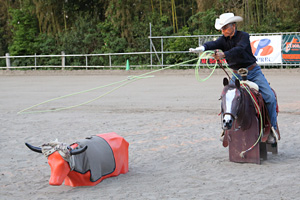 Although it was a thing that form reconstruction and its progress of Masami Ishiyama are remarkable in early outlook, the catch mistake has been committed as time was required of the performance in stressful situations to a slight degree by the place which can demonstrate the result.
Steadiness was shown. Three persons of Rowdy Hasegawa-Takayuki Kobayashi-Tohma Tokita moved the piece forward to the final.
In swing throw, Kobayashi preceded one step, and there was no difference of a big quality at catching and Daly.
However, on the point, Kobayashi gained the quantity score 1 point and shone with the champion.
"Editor's postscript"
The loping was able to regard a possibility that Kobayashi would further win as large, when swing and throw came to have been consistent to catching.
However, when form reconstruction of Ishiyama was completed, it just said whether it could return a blow in order to make Kobayashi dangerous.
Tohma Tokita becomes outdated if reconstruction of form is not tackled as at now -- it is infallible -- it is a place.
The impression which the rider itself is not taking into consideration was received from the front in the horsemanship which is how with factors required of a rider, such as a view and skill, or a horse to touch to reining, and the quality and level of skill of a horse being high every year.
The way things stand, it could not catch up with the level in the world, and although it should just be detached increasingly and must be opening of a second stage, it had the impression which ominous clouds have blocked.
The Pacific Riding Horse Breeders Community