I was endowed with the weather that was good miraculously in the Japanese Islands tossed about unexpectedly by short summer and a typhoon to flock, 18 and the interval of the 19 typhoon, and the most end of the war in 2014 began in an arena of the best condition.
 The Day 1st Friday, October 10
 Non Pro DV 1stGo Round
 215.0 As for what kicked out the high score of the point, the person was consistent by a light contact in the loose lane from beginning to end in amazing Performance in Moonshiny Pine and Hisako Ishiyama (Chiba), and there was a thing to stare wide-eyed at for the sliding stop that was beauty.
 In lower than second place, Caf King Jac and Takayuki Kobayashi (Chiba) of the championship front regular customer 213.5 points and Smart Catfish and Norimitsu Nakazima (Tokyo) 209.5 points, Senoritas Nicky and Masami Ishiyama (Chiba) 209.0 points presented a confused fight state following this.
 And if a non professional rider is improved, and the aspect does not acquire a plus score not the sweet fight such as a no penalty positively, do not put it in even a championship fight; is hard; fought.
 The seat of the Non Pro DV grand champion presented an aspect of the single combat of Mr Kobayashi and Mr Okada (Fukuoka) by three past results, but Fifty Nifty Gold and Takao Okada did overspin, and it was with score 0 points, and Kobayashi has been declared victor plainly.
 Open DV 1st Go Round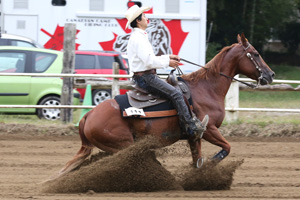 High score appeared one after another without not losing, and being inferior to the non professional class, and what stood on the top lined up in a tie at 218.0 points of Fifty Nifty Gold Rider Tohma Tokita (Chiba) Owner Takao Okada (Fukuoka) and Gold Flashy Bear Rider Kanjito Tokita (Chiba) Owner Akiko Masuda (Chiba) with two.
 Although these two of them are different from Fifty Nifty Gold getting high score at a stop in a characteristic in each in Gold Flashy Bear acquiring high score in a characteristic by the speed control of the circle, as for these two, parents are horses produced with Hokkaido no name lunch (Abashiri-shi) in same Gallo Gold Cody(Sire) and Bear Paw Fifty(Dam) in full brothers.
 And Eighty Six Classic(Owner Kazuhiko Sato) Rider Kanjiro Tokita (Chiba), Shesa Reincarnation(Owner SR Syndicate) Rider Keiko Hakamada (Chiba), Dream Of Chics(Owner Joji Ohno) Rider Shiori Maehara (Fukuoka), Catman Pine(Owner Kanjiro Tokita) Rider Ai Tokita and others touch what was left in the championship front following this top in the order beyond the average score and tie a wish to 2nd Go Round.
 The Day 2nd Saturday, October 11
 Ancillary Open
 In an entry only for one of Whiz N Pep(OwnerKanjiro Tokita)Rider Tohma Tokita (Chiba), It seemed to do schooling as training of the young horse.
 Green DV
 What it showed the performance that I surpassed to learn a feeling of some unfairness to grind an entry in this class, and won the championship won Congress and Final Scene of two circuit eyes in Shesa Reincarnation and Kosei Kawabata (Tokyo) and did two wins and had Green DV Grand Champion in my hand in 2014.
 And Mr Kawabata graduates from Green DV for a grade of this year, and promotion is decided to Ltd Non Pro DV, and activity of 2015 is a prospective rose color player.
 In addition, I got a wrong number of spins whether Mr Morooka (Tokyo) which served as championship in WJC was tense and turned out
 Ltd Non Pro DV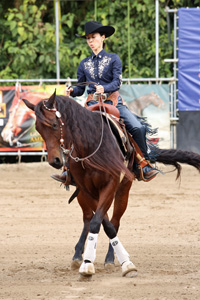 In Dunit Pepper Doll(Owner Cloud Nine) and Madoka Suehiro (Fukuoka) where four circuit clean scores (grand slam) suffered from, it was show Inge in the big pressure, but I pushed the wonderfully pressure aside and accomplished a great achievement and bathed in cheers of the whole house even if I said attention, anything in this class.
 It is such the progress and, by a splendid achievement that I do it in the horseback riding life third year, wants to show respect heartily.
 In addition, it is the place that pulls interest whether the way of this splendid achievement and progress is the talent of the person or the work that the lesson pro gram of the position club (Canadiancamp riding club) can form.
 And Ms Suehiro caught the authorization of the non professional rider from 2015 both in name and in reality and I ran the best seat in Japan and would challenge the front.
 And, in Brighten Gold and Youko Asakura (Fukuoka) where what won a reserve champion made a combination newly from this year, activity of 2015 is expected.
 The Day 3rd Sunday, October 12
 Non Pro DV 2nd Go Round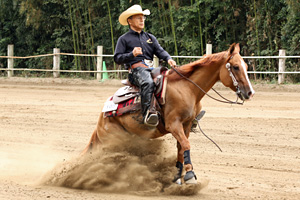 It takes first championship of Hisako Ishiyama which stood to the leader in 1stGo Round, and it is above-mentioned just what that it was with the hot fight with players who touched it in lower than second place.
 It was helped in savings of 1stGo of the thing which Ms Ishiyama did mistake, and stalled and I acquired total 415.5 points and stopped in the seat of the reserve champion.
 In addition, speed control and the beauty full stop of this horse seem to contribute to the growth that is high results and a rider of the next year very much.
 I made a recovery by the performance of a circle controlled in 2nd Go of the thing which there was the feeling that started late a little in 1stGo, and Gold Flashy Bear and Akiko Masuda (Chiba) went over the average score and shared a reservation champion with Ms Ishiyama.
 And Smart Catfish and Norimitsu Nakajima (Tokyo) which I touched at the good position stalled in 2nd Go and wore it and left outside and Style With Me and MIchiko Ochiai (Saitama) drew the potential of the horse instead and carried out a winning prize.
 In addition, I showed it to a spin of +1/2 for speed control and the sliding stop of the characteristic, and It get 217.5 points, and Caf King Jac and Takayuki Kobayashi (Chiba) which I violated a penalty of the deep regret in 1stGo, and contented itself with the second place marked high score of total 431.0 points and had seat of a non professional rider number one in Japan wonderfully and both grand champions in my hand.
 It was the valve of the person that I keenly realized high quality of the horse flourishingly, and, in the commendation ceremony, even a vote of Favorite Horse acquired the highest score and gained a title of great horse.
 Open DV
 At first Eighty Six Classic and Kanjiro Tokita (Chiba) were going to submit pressure to a rival by speed and an exciting performance, but it stops to 218.5 points without a score lengthening as expected and will wait for the performance of the player of the late departure at total 436.0 points.
 Without Dreams Of Chics and Shiori Maehara (Fukuoka) of the open champion of West Japan Championship showing reliable speed control and sliding stop, and being 433.0 points of 217.0 points of total, and Shesa Reincarnation and Keiko Hakamada (Chiba) having amounted to championship one step without one step reaching it without it being with the high score of the thing which showed a good performance.
 And the seat of open champion was accompanied by Fifty Nifty Gold(Owner Takao Okada) and Tohma Tokita with 220.5 points of total 438.5 points and perfect score in +1 sliding stop and lenience and severity of +1 circle speed by the personality of the king and an exciting performance.
 And this Fifty (nick name John) at the horse which Tohma Tokita made training and show Inge at the time of (4-5 years old for the Junior Reining era because it was results that Its come back at hand whether the deep emotion was not much more.
 Team Roping Dummy Header
 Green DV
 Akiko Masuda (Chiba) served as three past clean scores, and this class was the fight that took the great achievement of the grand slam depending on results of Final.
 Ms Masuda got 71.5 points by a performance of each maneuver +1/2 and although I gave other players pressure, Hisako Ishiyama acquired +1 at a catch point and acquired total 72.0 points and stood on the top and blocked championship of Ms Masuda and had a long-cherished champion buckle in my hand.
 Although reached the level above the average with the swing throw, unfortunately to catch it, and to make mistake of Ms Ishiyama, and to be able to already miss championship many times in one step of place;, as for this championship, awful; big; might be pleased.
 Non Pro DV

 Because compete for ability of Takayuki Kobayashi (Chiba) winning the championship in Mr Ishiyama (Chiba) and 1st Scene and Congress which set 73.0 points of high score in West Japan Championship, and won the championship; of two this as for championship when will compete; as for whom expected it, but it was Mr Ishiyama and Tohma Tokita that remained in the finals without being, and Mr Kobayashi being out of condition, and being able to start high score (Chiba).
 And at first Mr Ishiyama performed throwing of the finals and violated the big mistake called the neck rope, and a meeting place got more like a sound at 2 penalty score 70.0 points, and Mr Tokita did throwing successively, and it seemed with an easy victory, but I made mistake of a catch of the deep regret, and it was with 0 points whether the situation where I virtually beat invited carelessness, and it was with the end called 2 straight victories of Mr Ishiyama.
 Editor's postscript
 In best condition, the most end of the war of 3 days unfolds and realizes the improvement of a rider and the competition horse whenever I chase a time.
 I continue having a thing and the judgment that you must not forget even if not only you have a purpose, but also time passes as for the technique to evolve, and I force it to this, and accomplishment thinks for a will.
 It is joy big as one of the audiences that the pride as the Japanese is asked both reining and low Ping about there even if originally it is not a thing in accord with Japan.