33rd Congress, was also held this year.
This year, Wednesday Ancillary to the day before Wednesday of the tournament, was held new.
According to the announcement of the show manager (tournament headquarters), so far there is a paid warm-up to the day before the competition, mainly but professional has been carried out for the correction of the problems of the horse, the horse and rider are both to the tournament toward whether that can not be ready for trial and error a result, the show plan making for the production of either the show queuing of horse of schooling with any image, was that of the set as the object of the present invention is to run at the same time.

June 22, Wednesday Ancillary
Whether the show management of the policy is paid off, there is also 11 entries in spite of a class that was the first set, except for the people who venue entering did not meet the deadline on this day, the rider of many nonprofessional was entry.
Among them was caught the eye is, Dunit Pepper Doll & M, at Suehiro, the problems that this horse had been properly corrected, is that was out production to the result.
And, Smart Son & T is the won, in Miyashita, was a solid show queuing scored 137.5 points.

The Day 1st 6 May 23 (Wednesday)
Non Pro DV 1st Go Round
It showed no passive show queuing among the evil condition, from all of Ekijibita, felt the enthusiasm, such as to win the intrepid plus score.
So, was out hit the top score 205.5 points Brighten Gold & Y, in Asakura, this until the problem quite enough to say that what has become is not seen this horse of resistance to this, smooth transitions and ground condition It was sliding which is not affected by the.
And, was attached to the second place is, Mr Smartmax T, in Kobayashi, was the show queuing not think 204.5 points and the 21-year-old horse.
Mr Smartmax is, in the 1995 Brown Stallion, in the son of Smart Little Lena (51Million Dollar Sire), but it comes to more than 10 years ago is the horses that have won the Open champion about two degrees in the Japanese tournament.
In addition it was attached to the 3 fastest, Dunit Pepper Doll & M, at Suehiro, showing a glimpse of effective use of Wednesday Ancillary, was a show queuing never lacking control in rundown.

Open 1st Go Round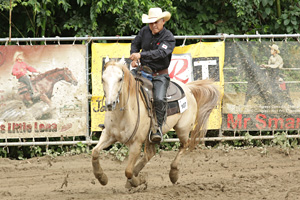 Was standing on the top, before Eighty Six Classic & K became the return first-leg at the convention closed on Thursday, Tokita Owner K, with Sato, won the 143.5 point, as the potential of this horse was a show queuing, such as margin enough .
And also, was stopped in victory attractions, Gold Flashy Bear & S, Maehara Owner E, in Kitamura, it was marked down for the consistently Avereji score with 139.5.
Gold Flashy Bear, now owner migrate new from the tournament Canadian camp (Fukuoka Prefecture) becomes the affiliation, but she also was the first show queuing even for a new owner for, or would not became the auspicious good result.
3 fastest, Style With Me & A, in Tokita139.0 point, to be able to put in place that aim to win, expect to 2nd Go is be popular.
In addition, Caf Au Lait S, Maehara Owner S, Yamaguchi is a 138.5, showed a significant growth of this horse.
The overall impression of this class, open class only thing seen is speed control and a sliding stop, I feel like was shown a professional soul went with each one that what evil condition was.

The Day 2nd 6 May 24
Ancillary Class Ltd Non Pro DV
Gold Flashy Bear E, Kitamura is the first of the show queuing owns this horse, but this class was one entry, won surely the score, was a place called toward the afternoon of production.

Ancillary Class Open DV
Coco Kiddy M, umetsu Owner S, Yamaguchi is, show a stylish spin and circle, won the champion won a stunning 211.0 points.
Is a rookie as a professional is her growth, it is incredible By following the memory of last year's WJC, her journey also for nonprofessional even for professional, would not become a good example for those who aim for the top .
It is where the future of the activity is expected.

Ltd Non Pro DV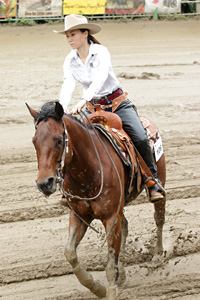 Was crowned champion, Dunit Pepper Doll & A, in Kizaki, it was marked down for 204.5 points and high scores.
She several times to challenge in this class last year, I did not accustomed to the top while being expected to win the candidate number one and the Skywalkers, was at once dispel the chagrin here.
The remaining WJC and is how the results of PBC Final Scene, expectations of the Grand Champion is also growing, T, become a conflict with Morooka is increasingly fierce, it became Keep an eye thing.
And, it became the reserve champion, Smart Son T, in Miyashita, Smart Son in 1992 Sorrel Gelding, a 24-year-old this year. And, the condition also performance indeed the Great, would not the laudable as a horse to be a sample of hippophile.
Had won the third place, Eighty Six Classic K, with Sato, he is, many times, but to play a championship in this class, became a long time of war have some time away from the show queuing.
By horse training advances ride of the day-to-day horse and has become a fun, but there was a show comeback in such, he said that it was a very fulfilling tournament.
Fourth place, Dance Hall Sally & T had been favorite to win and eyes, in Morooka, gone out read miss, that very frustrating is that the penalty is Kasami was resigned to this order, had vowed revenge at the WJC .
The Day Final 6 May 25 (Saturday)
Non Pro DV 2nd Go Round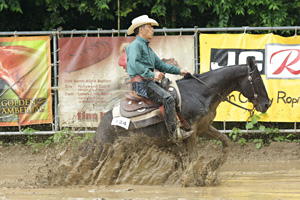 This class given the title of Japan's best nonprofessional riders and hose, in the results of the 1st Go Round, who was no idea melee pattern whether to hand the laurels.
And, brilliantly it was to hand the laurels of the Number One of Japan is, Mr Smartmax & T, in Kobayashi, won the 204.0 points, total 408.5 points.
For him, despite the fact that became a nonprofessional champion until this many times, crowned with nonprofessional class of Congress for the first time, it was had in hand a long-sought champion leather jacket.
Reserve Champ ions, Dunit Pepper Doll M, at Suehiro, 2nd Go 202.0 points, narrowly missed the champion with a total 406.5 points.
She, rather than to express the growing is no longer appropriate, it can be said that has become like that are in the stable championship distance is of course there.
Was attached to the third place, K, which was promoted to the nonprofessional this year, in Kawabata & Whiz N Pep, was the show queuing with a Whiz N Pep became the new partners from the tournament, it does not even bother the ground condition It was not eye-popping in the sliding stop.

Open DV 2nd Go Round
Champion, Eighty Six Classic & K, Tokita Owner K, with Sato, 2nd Go 146.0 points, won a total 289.5 points, Mr Tokita has decorated the first leg return of closed on dawning.
Eighty to Six Classic is increased restlessness in the inherent performance and Shopen, it is the defending champion Fifty Nifty Gold as of now a rival hose which had regrettably become ass for a moment in the sliding is zero point with ground touch with 1stGo championship is interesting.
Reserve champion, Gold Flashy Bear S, Maehara Owner E, in Kitamura, mark the high scores and 141.5 points in the 2nd Go, it was a show queuing worthy to satisfy the new owner.
In addition, third place Caf Au Lait S, Maehara Owner S, in Yamaguchi, 2nd Go 137.5 points, won a total 276.0 points, Ms Maehara has achieved a feat to monopolize the second place third place.

Team Roping Header Non Pro DV
In roping of high scores barrage, 3 people to 73.0 points, M, Ishiyama · T, Kobayashi · T, Tokita et al. Advanced to the finals.
But furious battle is expected in the finals, two misses the catching and sadly sunk, T, which became the last entry, Tokita is, shine a champion in a long time to overcome the pressure that the mistake is not allowed, to practice also it had set a strange jinx win without.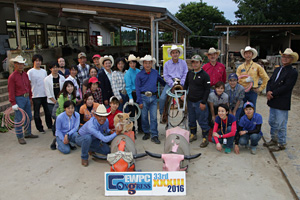 Editor's note
Became a held in the failure Baba That said the rainy season, is not comparable to the show queuing itself, innovation of horse training seemed to have supported this in underwater.
Raining and long in Western Riding spread cried, but still are you with the chaos is that of collective wisdom.
However, that horse of quality and rider skills is realized, it will no doubt is the foundation to realize this.
If there is a devotion and reflection of the business owner who is a professional and leader, should not be so hard work, it is not what rotten aspirations of stakeholders than is not helpless.