For PRBC(The Pacific Riding Horse Breeders Community), show season of 2015 equal to the eighth started.
The history of PRBC of 7 years was not a too long thing, but spun various stories.
In the rider section, two Kanjiro Tokita and TohmaTokita are born 3,0million yen rider, and 1,0Million yen sire is 3horses, Topsail Whiz, Chics April Fool, Gallo Gold Cody, and Chics April Fool and Gallo Gold Cody are breeding sire of Japan.
Furthermore, 1,0milliom yen Dam two are born. It is Riba Jane Jac and Bear Paw Fifty.
By the way, April 23 (Thursday) of the first day of the start had good weather, but it was a start with the condition that the riding ground was bad because of rain that fell by last night.
The Day 1st April 23 (Thursday)
Non Pro DV 1stGo Round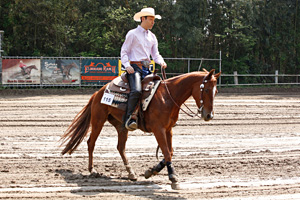 A big mistake was born one after another and has become the fight of the very low score.
Meanwhile, it is participation in a war from a first match this year than Kyushu in Brighten Gold and Youko Asakura (Fukuoka) to have been followed by having risen on the top in Senoritas Nicky and Masami Ishiyama (Chiba).
And it was Black Caf and Michiko Ochiai to have ranked the third place, and this rider was participation in a war at the horses which was new from this year.
Score did not lengthen whether the riding ground condition frustrated me as having thought and gathered up Caf King Jac and Takayuki Kobayashi (Chiba) of the favorite for a passable performance, but, in no score, was not able to advance to 2nd Go Round.
Gold Flashy Bear and Akiko Masuda (Chiba) which attracted attention when possibly championship was possible could not encounter with 5 spins as a dark horse, and it has been falling off.
And there is a difference in some score, but there is possibility of championship in 3horses.
The possibility of championship came out to a person of Score0 with this condition in score of 2nd Go.
In any case, score of the go round of the last day would decide championship, and adjustment became important.
Open DV 1stGo Round
Because horse where I made an entry broke down as for what rose on the top, Style With Me and Kanjiro Tokita (Chiba) which did entry marked 213.0. It was 210.5 of Gold Flashy Bear(Owned by Akiko Masuda) to have been followed, and it was Eighty Six Classic 208.5 to have ranked the third place and became the one-two-three of Kanjiro Tokita, and it followed that Whiz N Pep and Tohma Tokita (Chiba) touched it in the tie score third place.
Powerful speed control and a deep sliding are seen everywhere, and a powerful performance was developed, but tops core wants to expect even bad Baba for a performance of 2nd Go Round in 213.0 because it is a circle changing speed and size with pattern 8 every large first / Small throw / large first and one round in three laps of circles whether score was hard to appear.
The Day 2nd April 24 (Friday)
I reached the second day in the environment where the sky Kera good riding ground condition was ideal for.
In Ancillary Class Open, this class was often utilized for the schooling of a rider and the horse, and showing was at risk with 4horses done an entry, and the first competition seemed to be going to improve this.
It was Black Caf(Owned by Michiko Ochiai) and Kanjiro Tokita to have won the championship and seemed to adjust even a tense show pen to keep the concentration for the rider, and a speed circle and orchid down fast at all were seen, but the score was score210.0 of the average expecting a penalty by a spin and a lead change without lengthening as expected.
Ltd Non Pro DV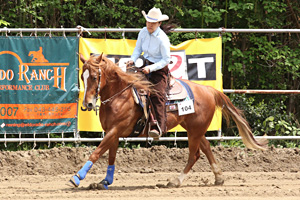 Because what won the championship let horses make concentration well in Brighten Gold and Youko Asakura (Fukuoka) and showed the control precision that was distinguished in this class and acquired laurels wonderfully, and Madoka Suehiro formed the great achievement of the grand slam last year in this class, anyone reminded of Kyushu group achieving a great achievement this year.
And A Hollywood Hustler and Masako Hayashi (Tokyo) which were Queen of Ancillary Class shined by this war wonderfully for many years in Re-champion.
The Day Final April 25 (Saturday)
Non Pro DV 2nd Go Round
For expectation who had laurels in the hand for a first match of 2015, I cut a start at a riding ground of the best condition.
In 1stGo Round, there is a difference in the first place, the second place, score of the third place, but of the reversal there may be it.
Gold Flashy Bear and Akiko Masuda got a plus by speed control, and, by the sliding of the average, the third place won a prize in 212.0.
It was Black Caf and Michiko Ochiai which an effect of the schooling in Ancillary Class was over the second place, and raised the possibility of championship of next horse show in 206.5 (Saitama).
Black Caf made Ochiai and a combination from this year, but, as for the potential of this horse, stop +1, promising on a horse future activity of spin +1 are expected very highly.
And, as for having had the laurels called first match championship in the hand wonderfully, the ability of the rider seemed to be required with Senoritas Nicky and the state that it was difficult for the spin to maintain concentration at this horse in Masami Ishiyama (Chiba) although easy +1, circle also had the potential that +1/2 was easy very much, but I performed without breaking the concentration of the horse and had laurels in my hand probably because there was the invention of how to get contacts in 2nd Go.
Depending on evolution of the big growth and training of the rider, what let the talent of this horse open a flower does not become known to the next meeting either.
Open DV 2nd Go Round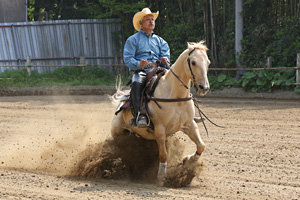 This class seemed to be decided to undergo a game in draw 1st.
Eighty Six Classic(Owned by Kazuhiko Sato) and Kanjiro Tokita(Chiba) set high score called 221.5. This might yearn for anyone.
+ It is the performance that showed 1 stop, +1 spin, +1 circle and talent of this horse and seems to be able to expect higher score if the relaxation of the horse is seen in the filler of the maneuver more.
However, I betrayed most expectation, and Style With Me and Kanjiro Tokita kicked out 217.0 and sprang up in top Tie.
3 years old was sometimes American NRHA Futurity Open Final 18place, and, as for this horse, it was an exercise horse of Eldorado Ranch at the horse which Andrea Fappani made training and showing now, but, as for the identity, the on a horse glimpse that was special seemed to be shown off.
The stop was very deep, and, by the reaction that I knew well without a risk in the work-to-contract of the circle, even an atmosphere not to permit the following of other horses was felt.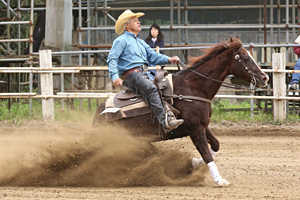 And championship was able to do an event since PRBC called 2horses began.
If a rider was a different person, it was the situation of the orchid off, but was accompanied by an end without orchid off concerning Co Champion because a rider of top tie was the same person.
And 3rd place seemed to have to improve a rollback of protectionism toss pin to earn a higher score although I earned a score by the speed control of the circle with the reputation in Gold Flashy Bear and Kanjiro Tokita.
As a result, the first match opening of this year did the finish when Kanjiro Tokita monopolized a high rank.
In addition, there was the horse which attracted attention, and Tohma Tokita did it in Whiz Sugar Dun(Owned by Keiko Hakamada) with training and showing and showed the stylish stop that was not seen so far, and there was the feeling that the new times came over to.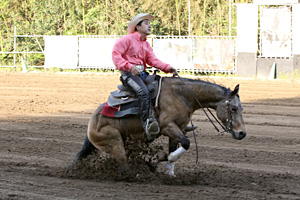 Team Roping Header Non Pro DV
By the exercise scenery, I seemed to be improved more, and Masami Ishiyama(Chiba) said in particular throwing, and the catch point was low Ping that it was said, and was perfect.
And, in 1stChallenge, it was Masami Ishiyama as expected to have kicked out tops core at +1 catch point.
It was +1/2 degree whether it was an equal of Ishiyama to have been followed, and something was wrong with the swing in Takayuki Kobayashi of the grand champion of the last year.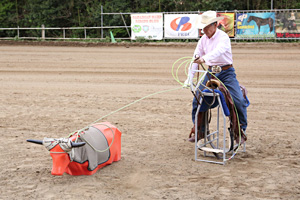 It was both persons of Ishiyama and Kobayashi to have advanced to the finals, but swing did not reach +1 and the level to say, but one and the catch point where blankness was seen in to Dally Ishiyama went only as far as +1/2 unlike to this, and the seat of the champion was accompanied by Takayuki Kobayashi which I gathered up steadily.
In the season of 2015, there was an announcement that an epoch-making leap was seen in a reining section, and it talked big when it evolved at a stretch for 1,000 years with 3,015 years to cry in 2015, but it was a real impression that did not turn out such when I opened a cover, but it was a fact that a thing different from the scenery until last year at all was seen when I saw exercise scenery.
When the fruition may be seen in the next meeting, I expect it and decide to take down a writing brush of this report.