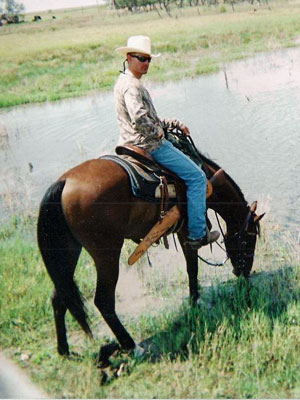 Steven King's knowledge of horses can be traced thru a line of horseman dating back to the beginning of America.
In the year 1775, a time of Revolutionary War, Steve's grandfather 6th Charles King, according to Washington archives- rode-a distance of 421 miles in 10 days under the employ of the South Carolina Committee of Intelligence in order to deliver warning indicating imminent attack by the British.
Grandfather 3rd Jacob Harvey King traveled over 1000 miles from the east coast to Weatherford ,Texas in the year 1867 by horse drawn wagon and worked for the U.S.A cavalry in company G 5th battalion .
In the year 1886 Grandfather 2nd Walter Harvey King working on a cattle drive 20,000 cattle from Texas to Washington state for the sum of $20 dollars per month.
In the early 1920's Grandfather 1st Joseph Henry King worked in the country of Mexico with horses for Mexican cattlemen.
Steve has had a lifelong working relationship with horses. In the year 1970 ,at five years old Steve watched while his father Bill King started Steve's first horse.

At 15 years of age Steve worked for Brentwood farms in Texas holding over 800 head of Arabian bred horses. Steve currently works as clinician, trainer and farrier in Crosby Texas. Involved with reining since 1991 and for three years under instruction of Dave Archer, a legend in reining, Steve continues to fight within the high level of competition.